India's Leading Asphalt Paver Manufacturer – Reliable Paver Machine Supplier – Wide Range of Asphalt Paver Machinery
We are into asphalt paver manufacturing, since 1973. We started our journey with manufacturing of dam gate and road paver. We have upgrated our product with time and upgradation of industry.
Asphalt Paver Machines – We offer
We are into manufacturing of hydrostatic paver machines and hydrostatic sensor paver machines, they both come with upgrated technology, user friendly operations, safety features, smart operations and BS4 engine. Our paver machinery requires least maintenance work and, hence are prefered more by the customers.
Our asphalt paver finisher are well known as 'Uniter Pavers' in the market. Uniter's paver are known in the market for their quality paving and low maintenance work. Our huge quantity of our customers are recurring customers. We also do have quick and easy spares and service operation process.
Start your road paving journey with leading paver finisher manufacturer, Uniter Engineering Products
Based in Ahmedabad, Uniter Engineering Products are globally accepted paving equipment manufacturers. Since our inception, we have stood for a competent and reliable partnership with all our clients, and it has proved to be the leading factor in our successful run as the best supplier and paver finisher manufacturer. The core of our business activity is to provide efficient and durable machines as per the requirements of our clients. We design, customize and manufacture machines with the application of the latest technology and strategy.
Why Choose Uniter Engineering Products
The significant features and benefits of the Uniter Paver machine are numerous. The application of highly innovative, modern and solid design technology has enabled us to supply a comprehensive range of paving equipment. Our machine is user-friendly and easy to operate. All our Apollo paver machines are designed for complete customer satisfaction.
Customizing Your Machine to Suit Your Needs
We are one of the asphalt paver brands that has the calibre to customize our products as per the requirements of our clients. Be it a trend in your location or individual preference, we are here to provide the best-in-class products, services and support to all our clients across the world.
Road construction with the Uniter paver machine is faster, smoother better in all conditions. Our machine is designed and supplied for rugged construction and precision performance under all conditions. We do not leave our clients after the supply of the machine. We are with them as long as they use our machine. Hence, we are known for the highest level of customer service and satisfaction. Contact us today to know more about our products and services.
Asphalt Paver Finisher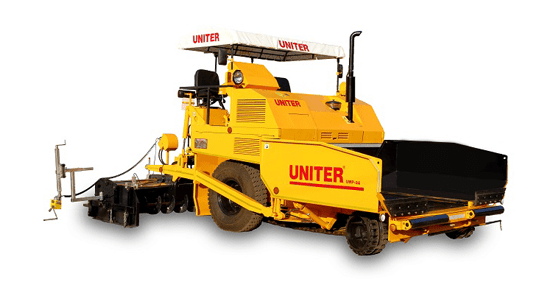 Engine Power: 74.5 hp @ 2200 rpm
Paving Width: 2.5 m to 4.5 m
Weight: 10,400 Kg
READ MORE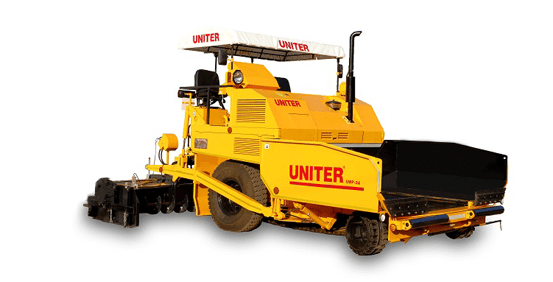 Engine Power: 74.5 hp @ 2200 rpm
Paving Width: 2.5 m to 4.5 m
Weight: 10,400 Kg
READ MORE
Our USP



Special Purpose Machinery for Road Tracks & Test Tracks


Clients & Testimonials
"Today in competitive world, completing contracts on timely basis is not only the target. But sustainability is a major cause. May UNITER fulfill their dream of being a pioneer in road construction equipment manufacturing and keeping their quality as mark of sustainability."
"While working on time-bound projects, availability of spares & service support is very important. We are satisfied with the timely service and spares provided to us on project site by UNITER. We appreciate their initiatives and quick support."